Version 1.8.1 supports AUv3 Multi-Out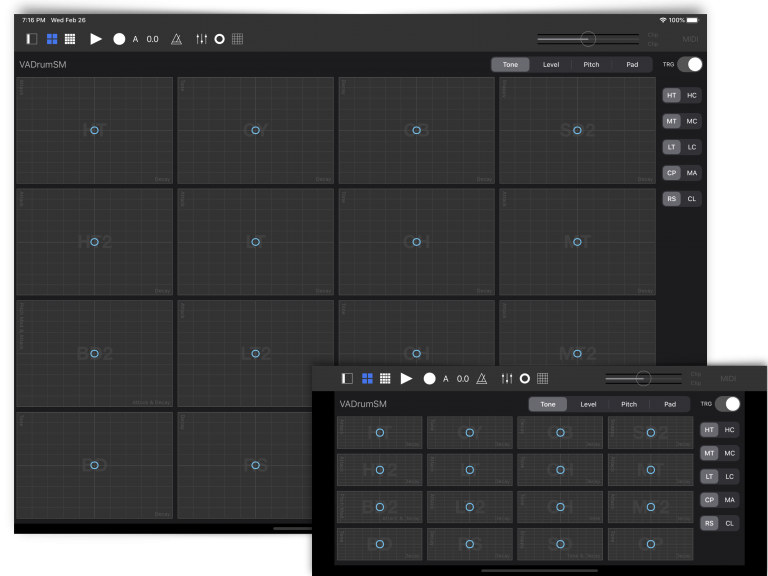 Virtual Analog Drum Machine
VADrumSM is a standalone mobile drum machine featuring a virtual analog drum synthesizer and a step sequencer. The virtual analog drum synthesizer supports AUv3 Audio Unit extensions, which allows users to use the drum synthesizer inside of AUv3 hosts, such as Apple's GarageBand®. The step sequencer supports Ableton Link which allows users to synchronize the sequencer to Link-enabled apps and devices.
The drum synthesizer is inspired by the iconic analog drum machines of the 1980's and features 21 drum voices. Sounds of the each drum voices are synthesized in real time by using component level modeling. Unlike sample playback, each hit sounds subtly different just like the sound of the analog drum machine.
The step sequencer is designed to be intuitive and easy to program. It is a 16 step sequencer with 3 accent level for the each step. Double hit mode allows to program two 32nd notes instead of the one 16th note. There are 4 patterns and can be chained to create 4 bar loop. Swing has 6 variations and it can be applied in real time.
All XY parameters (tone, level and pitch) and voice switches can be automated, that gives a whole new sonic possibility. Recorded automation can be overridden or overdubbed.
All parameters can be edited in Automation Editor.
Multi purpose pads can be used as XY controllers, XY controllers with trigger or drum pads. When using the pads as XY controllers with trigger, you can trigger drum sounds with different parameters in each hit and the triggered notes with the parameters can be recorded. 
Drum Synthesizer
21 analog modeling drum synthesizers, including 2 bass drums, 2 snare drums, 2 sets of low, mid and high toms, low, mid and high congas, rim shot, claves, hand clap, maracas, closed and open hi-hats, cymbal and cowbell.
3 Layers of 16 XY parameter controls (Tone, Level and Pitch)
Drum Pads Mode (Lock)
Trigger Mode (On / Off)
5 Voice Selectors
MIDI input (mid note events only)
Support Audio Unit Extensions (AUv3)
Support AUv3 Multi-Out
Step Sequencer
Parameter Automation
Automation Editor
Swing: 6 variations
Accent: 3 level
Double hit: on / off
Patterns: 4 patterns
Pattern Length: 1 bar
Loop length: 1 bar or 4 bar
Steps: 16 steps
Note length: 16th or 32nd
Record quantization: 16th
Tempo: 20 BPM – 999 BPM
Chain mode: on / off
Support Ableton Link
Support Audiobus
* Ableton Link requires Wi-Fi connections.
*Apple, Mac and GarageBand are trademarks of Apple Inc., registered in the U.S. and other countries.
*Ableton and Link are trademarks of Ableton AG.
All products, companies and standard names are trademarks or registered trademarks of their respective holders.
Analog Modeling Synthesizer
16 steps, 4 patterns, loop length: 1 bar or 4 bar
Standalone:

 

MIDI note events input (Note on and Note off)
AUv3: MIDI note events input and output (Note on and Note off)
Support Audio Unit Extension (AUv3)
Support Ableton Link
Support Audiobus
*Appearance and specification of products are subject to change without notice.
VADrumSM User Guide (V1.8.1) [PDF]
Version 1.1
Support preset functionality 
Support user presets (iOS13 / iPadOS)
New "Lock" Mode
Support Dark mode (iOS13 / iPadOS)
Version 1.2
New design, improved user interface
Version 1.3
Added 16 step sequencer
Support Ableton Link
Version 1.4
Performance improvements and bug fixes
Improved timing of the sequencer
Version 1.5
Performance improvements and bug fixes
Added swing settings to the sequencer.
Accent mode has changed. Now you can choose three level of the accent.
You can set accent mode and double mode for recording.
Loading user preset can be quantized.
Improved timing of MIDI input and output
Overall bug fixes including bug fixes on iPhone and bug fixes on iOS12.
Version 1.6
User Interface improvements
Performance improvements and bug fixes
Version 1.6.1
Fix a bug for crash at launch reported by crash log
Version 1.7
Added parameter automation
Improved usability of the side panel table
User Guide is included and can be viewed within the App.
Performance improvements and bug fixes
Version 1.8
New design for the drum synthesizer and the step sequencer.
Added a Parameter Automation Editor.
Fixed audio issues when parameters are automated.
Added track mute buttons in sequencer.
Support Audiobus
Version 1.8.1
AUv3 Multi-Out
Improved visibility of the parameter labels.